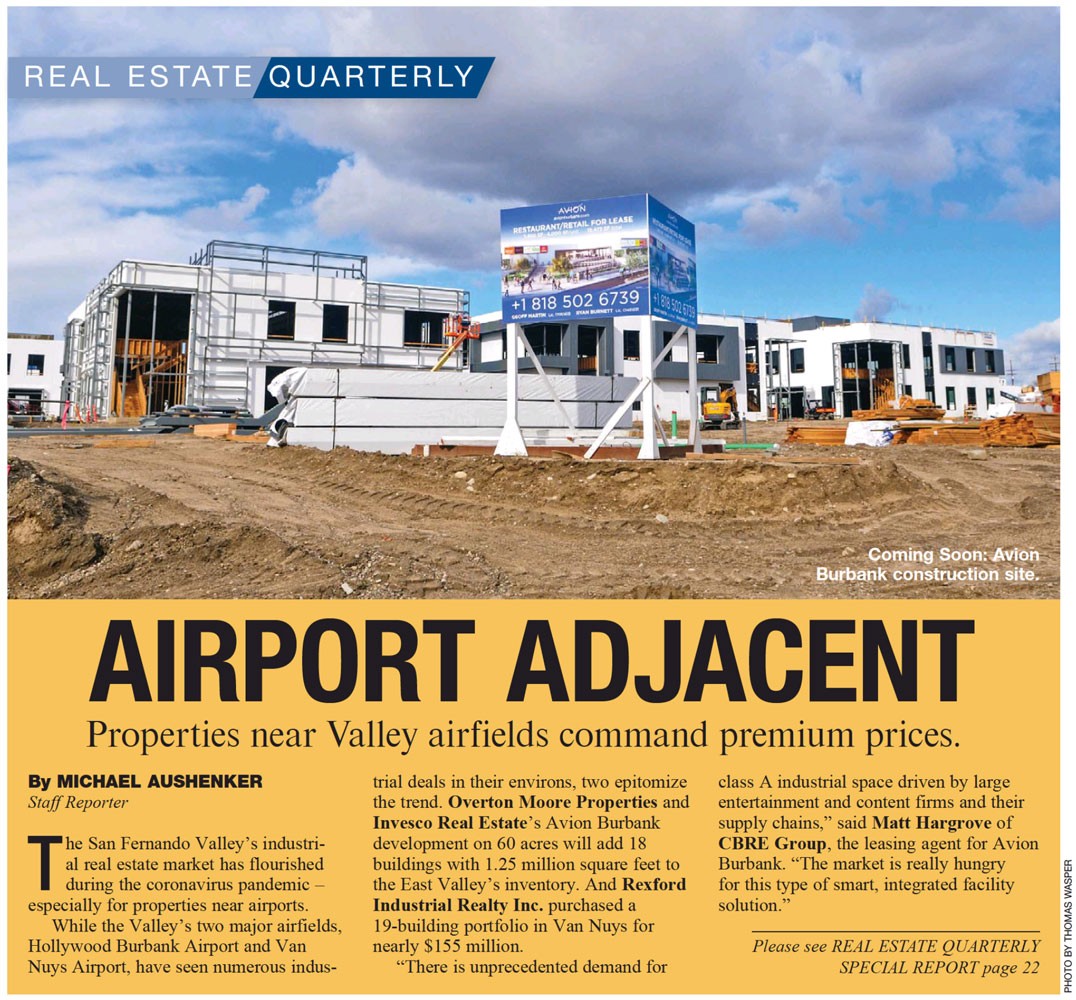 Properties near Valley airfields command premium prices.
SFVBJ Digital Edition | By Michael Aushenker Staff Reporter

The San Fernando Valley's industrial real estate market has flourished during the coronavirus pandemic – especially for properties near airports.
While the Valley's two major airfields, Hollywood Burbank Airport and Van Nuys Airport, have seen numerous industrial deals in their environs, two epitomize the trend. Overton Moore Properties and Article rank 1 Feb 2021 SFVBJ Digital Edition By MICHAEL AUSHENKER Staff Reporter PHOTOS BY THOMAS WASPER Invesco Real Estate's Avion Burbank development on 60 acres will add 18 buildings with 1.25 million square feet to the East Valley's inventory. And Rexford Industrial Realty Inc. purchased a 19-building portfolio in Van Nuys for nearly $155 million.
"There is unprecedented demand for class A industrial space driven by large entertainment and content firms and their supply chains," said Matt Hargrove of CBRE Group, the leasing agent for Avion Burbank.

"The market is really hungry for this type of smart, integrated facility solution."
In a year when aviation took a dramatic nosedive, real estate surrounding San Fernando Valley airports received high interest from investors and property managers during 2020. The Valley's major airfields, Hollywood Burbank Airport and Van Nuys Airport, have seen numerous industrial deals in the immediate environs. However, two deals stand out because of sheer size – the construction of the Avion Burbank development and Rexford Industrial Realty Inc.' s purchase of a portfolio in Van Nuys.
Burbank's new inventory
Developed by Overton Moore Properties and Invesco Real Estate, Avion Burbank officially broke ground in October 2019. The mixed-use business park will include 18 buildings with 1.25 million square feet of creative industrial, creative office and retail space along with a 150-room hotel. Development of the project advanced after Overton Moore purchased the property in 2016 from the Burbank-Glendale-Pasadena Airport Authority and received approval from Burbank City Council in 2019.
Located on 60 acres at the intersection of Hollywood Way and San Fernando Road, Avion Burbank is surrounded by multiple transit options in addition to the airport, such as a Metrolink stop, multiple bus lines and freeway access.
The developers also plan to abide by environmentally friendly green rules. Avion Burbank will be LEED-certified property with 115 level 2 electric vehicle chargers plus room to add 62 parking stalls and truck loading docks for future EV chargers.
"Avion Burbank will offer users a unique environment that incorporates state-of-the-art buildings situated in an interactive work-life environment," said Overton Moore Chief Executive Timur Tecimer in a statement at the time of the ground-breaking. "This innovative campus will assist companies in recruiting and retaining the best talent." Added Matt Hargrove, vice chairman of CBRE, the brokerage leasing out the spaces at Avion: "The market is really hungry for this type of smart, integrated facility solution. … There is unprecedented demand for class A industrial space driven by large entertainment and content firms and their supply chains. The creative office product which is for sale or lease will provide owner-users with a unique opportunity to create a design-to-suit office experience all within a multi-modal master planned setting. With its scale and variety, we see a huge opportunity for Avion Burbank."
Van Nuys value
In what Newmark broker John DeGrinis believes was the biggest North Los Angeles industrial acquisition of 2020 – closing right in December – Rexford Industrial paid nearly $155 million, or $325 per square foot, in cash for a 19-building, 24.3-acre industrial portfolio totaling nearly 500,000 square feet in Van Nuys.
DeGrinis' Newmark team represented both buyer and seller in the deal for Van Nuys Airport Industrial Center property, which is located near Van Nuys Airport, one of the country's busiest private airfields. The land has been under generational ownership in a family since the early 1900s.
DeGrinis shared with the Business Journal why the owners finally unloaded these assets. "The heirs of this property reached a point in which the managers decided that this was the right time to sell," DeGrinis said. "Value reaches the right scenario, and you move on."
The buyer of this portfolio is no surprise – Rexford has been an aggressive investor in local industrial real estate in recent years, making major investments in markets such as Simi Valley and Thousand Oaks. Rexford also recently purchased a 200,000-squarefoot structure in Sylmar.
"Rexford will continue the business plan to drive rents and create value." DeGrinis said.
Hollywood Burbank Airport's location in Burbank – where the largest entertainment studios and media companies have their headquarters – makes the area ideal for businesspeople as well as investors.
The airport itself has construction plans. It plans to replace the aging 14-gate terminal dating back to 1930 – before seismic safety rules – with a new 355,000-square-foot terminal, as well as a multilevel parking structure to accommodate 6,600 vehicles.
Pre-pandemic, Hollywood Burbank Airport reported nearly 6 million passengers. Southwest Airlines is the largest carrier with the most flights.
"People will choose that over LAX," DeGrinis said, referring to the compact and convenient Hollywood Burbank Airport, the Valley's only commercial airfield.
Eager tenants, buyers
Multiple brokers confirmed to the Business Journal that Amazon.com Inc. will occupy 700,000 square feet at four buildings in the Avion Burbank business park once construction is finished.
Office broker William Boyd, based out of Kidder Mathews' Pasadena office, said that the Avion industrial project has turned into a synergy driving demand around the Hollywood Burbank Airport.
"It is helping to accelerate interest in the airport district because of land constrictions in (Burbank) Media District," Boyd continued. "The market is looking more seriously at the airport area."

And there is still more "runway," so to speak, in the Hollywood Burbank Airport circumference. "There is a voracious appetite for that space," Boyd said. "It's no longer conjecture. We're actually seeing it happen."'
Simultaneously, as a light appears at the end of the long coronavirus tunnel with multiple vaccinations being distributed worldwide, pent-up demand for space devoted to entertainment production will most likely explode once the virus has been subdued, both Boyd and DeGrinis said.
"Entertainment has kind of thawed a little bit," DeGrinis said, pointing to recent deals involving L.A. North Studios and Needham Ranch in Santa Clarita. "More of those types that are stepping up. All we hear about is the need for more content."

DeGrinis said that there is practically a profile for the type of owner of airport-adjacent properties in the Valley. They are long-time legacy landlords, often family-run businesses. The broker said that as these owners age out of business, "it matches up very well with the capital dying to buy." These investors "will pay top dollar for those assets. … They're going to scrape it and build a new one," he added.

However, in the case of the 19-building portfolio, DeGrinis continued, there are no plans for redevelopment because these class B buildings – built in the 1960s and 1970s – "were built in a manner that they were sort of timeless," DeGrinis explained. "These buildings lease for big numbers."
As an example, DeGrinis cited a building near L.A. County-operated Whiteman Airport, the Valley's third airfield in Pacoima. The warehouse with 123,974 square feet at 12154 Montague St. will lease for $1.08 per square foot in June.
That in keeping with the average of $1.10 a square foot in the East San Fernando Valley, according to data from Colliers International, but significantly higher than the 94-cent average for the entire San Fernando Valley.
The buildings in the Rexford portfolio were 98 percent occupied by service-related companies such as Ferguson Plumbing and Goodman Distribution upon the close of this sale.
Ironically, what industrial asset buyers and tenants seek in airport properties isn't necessarily access to air transportation, but convenience for ground travel. Van Nuys Airports is just west of the 405 freeway and south of the 118. Hollywood Burbank Airport lies between the 118, 5 and 101 freeways.
"It's the first stop north when you come out of West L.A.," DeGrinis said, referring to Van Nuys. The Rexford deal notwithstanding, DeGrinis sees many properties ripe for redevelopment, largely designed to serve e-commerce distribution or entertainment tenants.
Amazon.com Inc. alone has tallied up nearly 5 million square feet in leased space in the North L.A. and Ventura County markets in the past 24 months.
Much of its leases closed in 2020 as the pandemic substantially increased a reliance on the Amazon convenience of home delivery during the stay-at-home lockdown.
"That's enormous," DeGrinis said, noting that he could not comment on whether the ecommerce giant has reached its saturation point in the valleys. "We're not smart enough to know Amazon's distribution plans."
Contributory deals
The Avion construction site and the nine-digit Rexford acquisition are not the only transactions near the airports.
In May, spice and seasoning manufacturer Chef Merito Inc. purchased a Sun Valley industrial facility for $5.75 million, or $395 a square foot, according to CoStar Group data.
The 14,560 square-foot industrial space, situated at 7691 San Fernando Road within the Burbank Airport Commerce Center, boasts a location proximity to Hollywood Burbank Airport. Michael Zugsmith of Encino sold the property to Chef Merito, which was previously headquartered in Van Nuys.
Half a year later in December, a 16,230-square-foot Van Nuys industrial site sold for $3 million, or about $188 per square foot. Lee and Associates/North L.A. principals Scott Caswell and Erica Balin represented buyer Fox Capital and seller Kamat Family Trust in the transaction for 7020 Hayvenhurst Ave. It was a 1031 tax-deferred exchange.
"It is very challenging to find any multitenant industrial buildings for sale in the San Fernando Valley," Caswell said in a statement. "This project is centrally located with great access to Los Angeles and well suited to serve Van Nuys Airport."
Then in January, a pair of separate freestanding warehouses within the Van Nuys Airport Corridor sold for a combined $3.7 million. The 7022 Valjean Ave. property, with 4,452 square feet, sold for $1.9 million, while 7028 Valjean Ave., with 4,436 square feet, sold for $1.8 million.
Once again, Spectrum's Haimoff and his colleague, Barry Jakov, represented the seller. The properties sold to separate owner/users. According to Spectrum, the sale price in this transaction represents a record-breaking price for comparable industrial buildings.
"Industrial vacancy rates are at all-time lows and demand is very high," Haimoff said. "We have companies that have done very well and have increased their footprint by doubling up their square-footage. … "Unfortunately, there is not enough quality inventory right now, so it forces us to search deeper for additional opportunities."